Should you or shouldn't you? We'll help you decide on a car rental in Hawaii. It depends on which island you are visiting. Except for Lanai, the large car rental operators offer rentals at all of Hawaii's airports, making picking up your vehicle rental efficient for your vacation.
The options are numerous, as you can rent everything from a compact or economy car to a convertible or 4-wheel-drive Jeep Wrangler. You'll find navigating the island's roads a breeze with a GPS or app on your mobile phone.
Should I rent a car on Oahu?
You'll likely be staying in Waikiki which has shops, restaurants, beaches and a variety of outdoor activities. If you do not plan on taking an adventure around the island you certainly won't need a rental car on Oahu.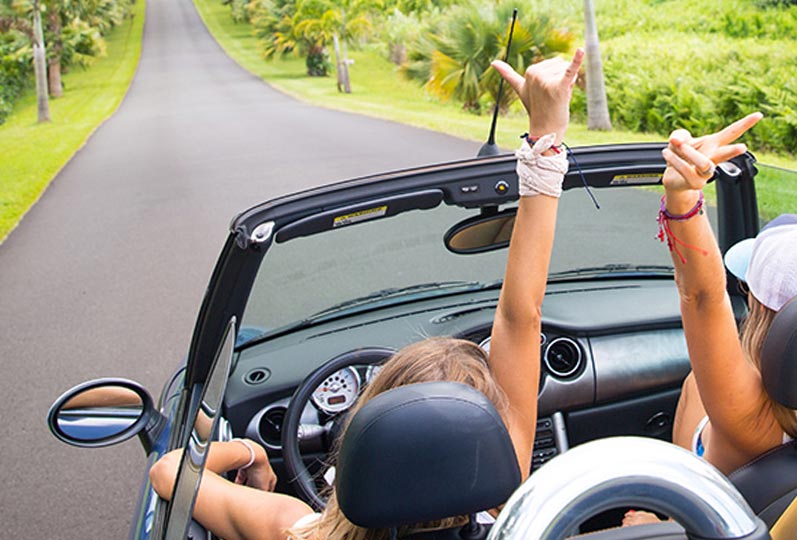 If you're planning on exploring the island you'll want to rent a car, either at the airport or at one of the locations in Waikiki. Having your own vehicle will allow you to take things at your own relaxing pace. Without stopping the Island of Oahu only takes about two hours to circumnavigate. But be aware, there are shuttles and tours that visit many of the island's sights. Yet, you'll be at the whim of the schedule of the operator.
Should I rent a car on the Big Island of Hawaii?
There is a reason they call this island, The Big Island (TBI). Hawaii Island is very spread out. Most visitors will land at Kailua-Kona airport (KOA). This airport is about a 15-minute drive from the Kona area. Thus, a rental car is practically required for your vacation. In addition, the island is a pleasure to explore, from mountain summits to beaches and the intriguing Hawai'i Volcanoes National Park. We recommend reserving your car rental well ahead of your travels. This can save you a considerable amount of money on your vacation.
Should I rent a car on Maui?
The majority of people visiting Maui decide to rent a car as many things you'll want to do a spread across the island. Albeit, you can get around Maui by tour bus, shuttle, taxi, or other public transportation. But, to truly experience Maui, you might want to consider booking a car rental in advance from the OGG airport on Maui in Kahului.
Should I rent a car on Kauai?
Most visitors to Kauai decide to rent a car as you most likely won't be staying in Lihue near the airport (LIH). In addition, the island has many locales you'll probably want to experience at your leisure. There are numerous beaches, hiking areas, scenery, and towns to explore on Kauai. If you don't rent a vehicle you'll be confined to your resort or vacation rental. Remember to reserve early as rental rates increase as your travel dates get closer.